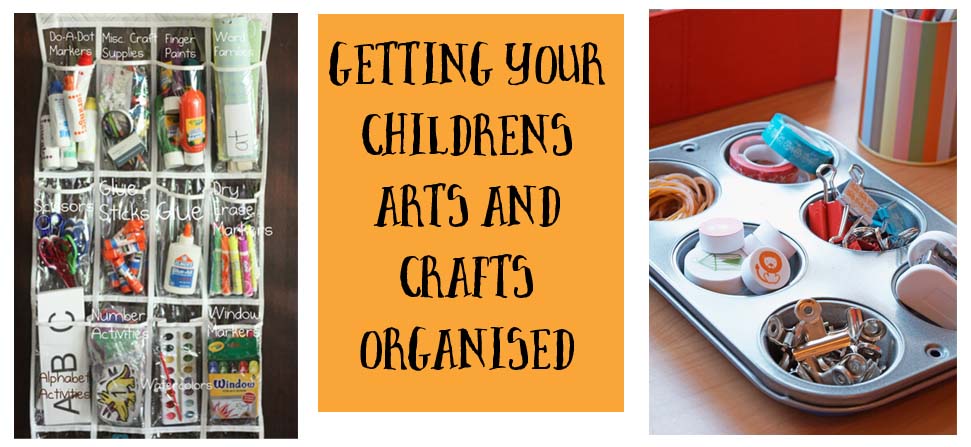 Todays 'Getting Organised' post is looking at craft supplies. While it's aimed at getting your children's arts and craft supplies in a manageable and more importantly; a usable state, the tips here can be applied to adults craft supplies storage and organisation too.
The main focus of this post is on reusing supplies that you may already have, upcycling household items that you are not using or that you can source cheaply to create imaginative, cost friendly space and places to storage all your crafting materials.
#1
This would be super easy and cheap to do, you can pick up food storage containers nearly anywhere. You could even make some cute chalkboard labels to decorate them with. Here is a tutorial on making chalkboard labels
 #2
Use an old baking tray to store your stationary or craft supplies, it fits perfectly into a drawer.
#3
This post over on www.icanteachmychild.com shows you how to upcycle a shoe organiser to store your craft supplies
#4
 I definitely have to try this one out. All you need is a lazy susan that you can pick up in IKEA here, flower pots or cup containers, some paint and a glue gun.
#5
This post has some very clever uses for old plastic milk bottle containers including how to use them as storage for your colouring pencils, crayons or markers
#6
I use old pill containers all the time to store embellishments, jewelry supplies, decoupage or scrap booking materials. They're small, neat and safe. Plus really easy to label
#7
If you have the space in your home try to create a 'crafting space' a place where you can keep all your supplies, all inventively stored and organised now of course.
Here are some of may favourite's from around the web
If you are really short on space use the inside of a cupboard or create a moveable outdoor space
Until next time peeps, happy organising.
Vanessa