Read through just some of the 5 star customer reviews that parents and children have left for The Craft Corner.
Consistantly scoring high with parents and children, the craft corner provides a high quality of service to each and
The Craft Corner
Average rating:
5 reviews
Jul 30, 2019
Great art class for kds
My 4 kids have all had art classes with Vanessa and have absolutely loved them, My 5 year is currently doing the after school classes in Straffan and can't wait for Wednesday art day!

Kids not only do art projects but learn about the different aspects of art. Highly recommend. Thanks Vanessa!
Jun 21, 2019
My son has really enjoyed the after school art classes in Straffan. Vanessa and Grainne are hugely enthusiastic and patient.

The classes are well organised and the children are given the opportunity to develop their interest in art through the use of various mediums in a nice relaxed environment.

We will definitely be returning!
Jun 19, 2019
My son has Dyspaxia which affects the fine motor skills and gross motor skills amongst other area's so it's important for him to learn the skills that arts and Crafts provides, he's currently in 3rd class but has been going to the classes after school since senior infants, Vanessa is wonderful with him and the other kids, he really enjoys the class , I would highly recommend @Thecraftcorner and Vanessa , thanks for everything over the past year, look forward to seeing you in the class when school returns 😁
Apr 30, 2019
Another super camp!
My 2 girls did Vanessa's Easter art camp last week and thoroughly enjoyed it once again! So well organized and lots of fun was had by all! Such a beautiful setting in Castletown House too. Such lucky kiddies. Well done and huge thanks Vanessa & Grainne x
Sep 24, 2018
Corporate Family Day


I hired Vanessa and her team for a large corporate client's family day in Tayto Park. All the children seemed to have a great time doing arts 'n' crafts. Vanessa had some lovely alternatives to what you usually find at craft tables and was completely self-sufficient. Nothing left over as they cleaned up the entire area afterwards. Would recommend for any corporate family events ! 

Karen Maguire - Corporate Family Day


Vanessa, Thank you so much for a fantastic Craft Party today. They all loved it… very proud of their work! It was the most relaxing & easiest party I have had…all I had to do was feed them. They were fully engrossed in their work the rest of the time. There was great feedback from everyone. Just brilliant!!!!!! Thank you
– Janet Fletcher
I have received great feedback from all the mothers about the party, all the kids loved it and were raving about it. Thanks a million for doing it and making it stress free for us, we will highly recommend you.

– L. Minogue Birthday Craft Party customer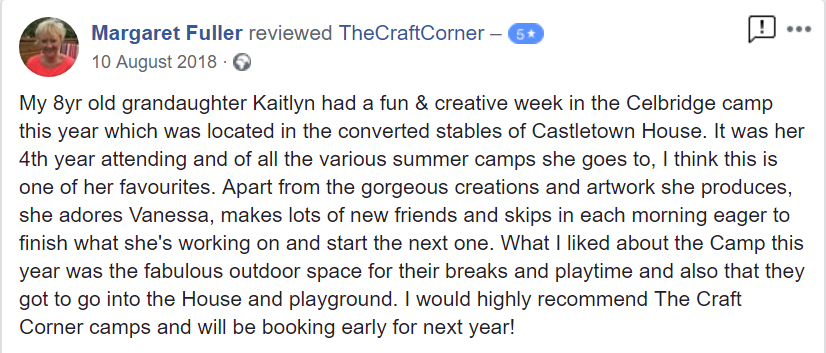 Great value for money, when you consider how much they did every day. …you are so great with children, full of enthusiasm, ideas and patience

-parent of child that attended one of our Summer Craft camps
Vanessa did a great job in managing all the children and was excellent at regaining their attention and redirecting them.

-feedback from the full time carer of boy with ADHD
I particularly liked the journal – think it's really beautiful and also something that she will use time and again.

-parent of camper
The craft corner camp was fantastic. My daughter is 9 and she loved it and came home with wonderful things every day.

-Susanne M.
Caoimhe loved making all the items!! Her favourite would probably have been the customised board game. She was loath to pick a favourite when I asked her to, and enjoyed them all.

-Sinead B.

I was very impressed with the book and (the) board game … a lot involved in a craft like this and the expertise and patience of teacher made a great end result for Muireann.

-parent's feedback on the summer camp projects
I thought it was great for her creativity and imagination

-Lorraine Minogue
Well done Vanessa and The Craft Corner. My two girls really enjoyed the week in summer camp and I will look forward to sending them again next year.

-Elaine S.
Overall Maria had a great time and met new friends. I like the fact that the number of kids is limited so they can interact each other and express themselves and this is what exactly I was looking for. I would like to thank you Vanessa, you did a great job!

-Marina
I was most impressed with the photograph of the group with the lovely note on it specifically written for her.
-Suzanne
Both our children attended the camps – a girl aged 12 and a boy aged 8. They thoroughly enjoyed the activities amid the lovely atmosphere created by Vanessa. The crafts they made used plenty of skills and creativity and they got great satisfaction from the end results. The camps are highly recommended.

-Grainne A.
Fantastic camp providing fun and education in a clean and friendly environment, and only down the road.

-Sandra O.
The Craft Corner summer camp was a big hit in our house, every day brought new crafty projects and kept budding artists busy! We have tried other craft camps but this one really allowed the child to be creative in their own way and hit the right note for 5 to 8 year olds

-Caroline Greene
Overall an excellent camp that was very well managed and I would recommend it to anyone.

-Leanne C.