Arts and Craft Classes in Straffan
We currently run two Straffan Arts and Craft Classes in the village.
Wednesday Class – Spring Term Starting back on Wednesday the 30th January 
A junior class on Wednesday afternoons for children in Junior and Senior Infants attending Straffan National School. It is from 2.00pm to 3.00pm with pick up by us from the school. We walk down to the hall and class finishes up at 3pm sharp.
Get in touch to see if we have spaces for our Spring Term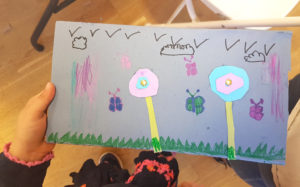 Thursday Class – Spring Term starting back on Thursday the 31st January 
On Thursday afternoons directly after school we have an art class for children in 1st class and upwards. This runs from 3pm to 4pm
Get in touch to find out about our spaces for Spring 2019 
Upcoming Classes and Events 
To be the first to know about these and any other upcoming classes join our Mailing list, who get exclusive access to all our classes and camps.