---
---
Dunboyne summer camp
Our Dunboyne Summer Arts and Craft Camp will be starting next Monday the 11th June and run until Friday the 15th June.
This 5 day arts and crafts summer camp will be jam packed full or arts, crafts, fun and lots of imagination. We have a fantastic line up of porjects planned including how to make your own board game, notebooks, obstacle courses, painting, printing, nature art and lots more
The camp will be on in Dunboyne Parish Centre which is located just as you drive into Dunboyne on the Maynooth side. It is just passed Dunboyne Castle on the left hand side opposite the playground. The Parish Centre is a lovely premises, nearly brand new, the camp will be in a bright airy space with lots of room to get creative.
GOOGLE MAP LOCATION OF DUNBOYNE PARISH CENTRE
Our Dunboyne camp is suitable for those ages 5-11 and will run from 10am to 2pm each day. We provide all the arts materials and all you need to bring along is a packed lunch and make sure our campers wear old clothes as we will be using paints and glue each day.
Each day our art campers will go home with a completed project, some art projects will take a few days to complete and at the end of the week they will have a wonderful portfolio of work that they can use and create with during the course of the summer
Dunboyne is a brand new summer camp location for The Craft Corner and we are excited to get crafting. We started teaching after school arts and craft classes in Dunboyne this Spring and are happy to say that they have been a fantastic success with the pupils of St. Peters National School.
If you would like to book a space at next weeks art and craft camp simply fill out the booking form at the link below
And you can find more information on the other locations we will be holding camps at here 
---
---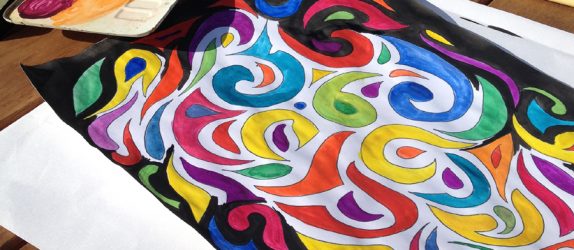 mindfulness 
ˈmʌɪn(d)f(ʊ)lnəs/
noun
1.  the quality or state of being conscious or aware of something.
2.   a mental state achieved by focusing one's awareness on the present moment, while calmly acknowledging and accepting one's feelings, thoughts, and bodily sensations, used as a therapeutic technique.
I bought my first mindful colouring book when I was on holidays in Dingle. Co.Kerry a few years ago. The phenomenon hadn't quite reached public awareness to the extent that it has now. (If you
Google mindful colouring
you get over 370,000 results) I spent many a peaceful morning painting and colouring in my book outside our little cottage. I would take it out again every now and then and colour in another page.
But here is the thing. I am a doodler and I am a maker. Every diary and planner and notebook that I own is filled with doodles on one page or another. And I love to create my own patterns and have more control over the end result. I find the process of painting and drawing random repetitive patterns incredibly relaxing.
Sometimes when I am working on a particular design problem or brainstorming for a new craft project I will sit down and paint or doodle for a while. It lets my brain ZEN OUT as I like to call it. Rather like YOGA FOR MY MIND MUSCLES.
So what is this project all about? 
It is about sharing a little bit of mindfulness with all of you the best way I know how (through art)
It is about me taking time every now and then to create for creating's sake.
It is about me ZENNING OUT and doing some MIND YOGA
My hope is that each person who downloads the colouring sheets will take some time out of their day to disconnect, chill out and just colour.
How do I get my first mindfulness sheet?